Get Started
This course is currently closed
Those who attended the original webinar are enrolled in the course and marked as passing the course. The NCCAOM Certificates were sent to attendees of the original webinar on June 13, 2021 by email if they were present at the entire webinar. There is no plan at this time to turn this live webinar into a course for PDA. 
Schedule 
The live webinar was held from 10AM to 6PM, both Saturday and Sunday, 8 hours per day with an hour's worth of breaks, 7 PDA per day, a total of 14 PDA. Attendees must be present all of both days to receive the PDA/CEU credit.
About The Class:
This two-day seminar contains BRAND NEW, MARYLAND SPECIFIC INFORMATION, so these will be essential for best billing practices, even if you have already taken a billing class, or a class with Mori!
About Recording: This live Zoom webinar will be recorded, and available to registrants from Mori West's website for 60 days following the webinar at no additional cost. By registering for this event you indicate that you give consent to be recorded.
About NCCAOM PDA: 14 NCCAOM PDA are available for this class. Due to changes in NCCAOM policy, partial PDA CANNOT be given; in other words, you must attend both days to receive PDA. This webinar contains updated material – even if you are an experienced biller or have taken a class with Mori before you will benefit from attending both days!
Students Learned:
Saturday May 22 – Essential Billing:
– Understand the new E/M requirements for 2021, plus get updates to ICD-10 codes
– Learn how the new Medicare Acupuncture policy is affecting you AND Medicare Advantage Patients
– Learn the latest news regarding the VA CCN program
– Networks and carriers specific to Maryland
– Understand how to bill for Telehealth
– Get updated cheat sheets and materials you will use over and over• Medicare
Mori also provides plenty of handouts; including Cheat sheets for coding CPT and ICD10, pre-filled forms for various types of insurance. She also provides additional links to resources.
Sunday May 23 – Exams and Bulletproof Documentation:
– Review of coding so you can confidently code what you do
– Understand the importance of examination findings & outcome assessment test
– Modifiers you need to know and use
– Know EXACTLY what carriers are looking for, and GIVE it to them
– Confidently file appeals if your claims are denied
– Plus additional materials and resources you need in your practice
Mori and her team have developed a Simple Exam Quick Reference Guide as well as a cheat sheet on E/M guidelines which include HPI, Palpation guidelines and pain frequencies. Sample progress notes and sample letters of medical necessity are also included.
About Mori West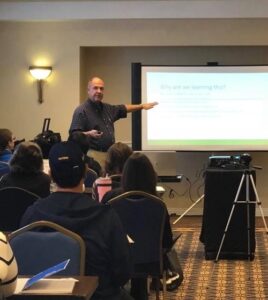 Mori West is the President of Acuclaims, a well known and respected Medical Billing Company for Acupuncturists and Chiropractors. For over 30 plus years Mori has been providing up to date information regarding billing and coding while donating her time at both the national and state level to insure that correct information regarding insurance billing practices is put forth.

She is a popular guest lecturer at Acupuncture Colleges and various State Associations. Her classes prove real-world information that comes from processing thousands of claims each week for acupuncturists across the country. She is known as a lively speaker who entertains and inspires her students.
Partner: Dr. Roger West
Dr West has been in private practice as a chiropractor since 1985. Prior to receiving his degree he studied Chinese Martial Arts (Hsing-i,Tai Chi) as well as advanced studies in Feng Shui since 1990. His studies include advanced knowledge in 5 element theory as well as Taoist Cosmology. He has always been an advocate for acupuncture and acupuncturists and has worked alongside an acupuncturist in his private practice. He is a Qualified Medical Evaluator for the state of California and has reviewed and commented on thousands of pages of medical records.